Feel-good update: Who's running in Texas
​I know it's impeachment week, but bear with me: I want to talk about Texas.
​I know it's impeachment week, but bear with me: I want to talk about Texas.
We ran $100k+ worth of ads in Texas — after last Monday's filing deadline, it's clear it paid off.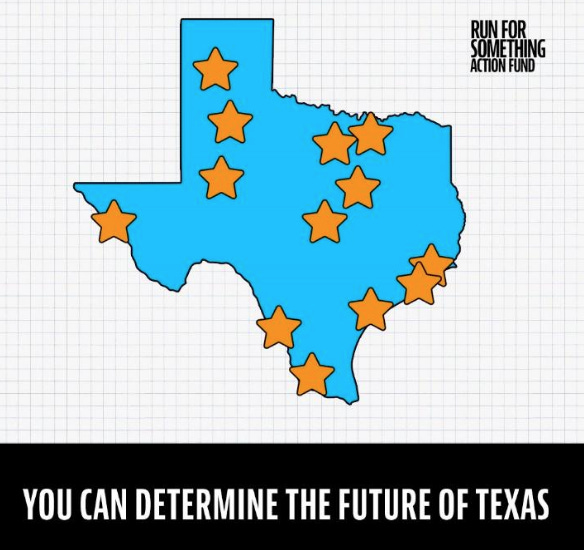 At least 26 of the 80+ non-incumbent Democrats running for state house in Texas are in the RFS pipeline. At least 17 of them are challenging Republican incumbents or running in open seats & 3 of them are running in districts that Democrats left uncontested in 2018. More than half of these folks are women. (And all these stats don't include the 5 incumbents we helped elect in 2018, 4 of whom have been named top targets by the TX GOP.)
It's worth noting: At least a half dozen of these folks signed up with us nearly 3 years ago, reinforcing something we say often: Candidate recruitment can take a long time, and requires permanent investment.
We'll be soliciting and reviewing endorsement applications from these folks over the next few months, and will further engage with the true all-stars of the bunch who meet our criteria. Stay tuned!
More good updates from our candidates & alumni across the country:
You are qualified to run for office
Op-Eds A year ago, you entrusted me to represent you on the Berkeley City Council. Every day since then has affirmed…www.dailycal.org
And in related reading:
Why it matters to elect folks to every level of office, no matter how small: 71 localities in Virginia, 64 counties in Illinois, and 30 counties in New Mexico have passed some kind of resolution refusing to follow any state-initiated gun control legislation.

Our partners at Ignite ran an incredible conference for young women considering running for office — read this and feel good about the future.

The entire Democratic ecosystem is taking on the fight to win state legislatures. It'll take a village to get this done — glad everyone's on board.
I can't say it enough: Thank you for making all this possible. I rarely make an ask in these emails — but today, I hope you'll make an end-of-year gift. We need to go into 2020 with a strong foundation — your generosity today matters most.
Thanks, thanks, thanks!
-